"To create, to dream, to reveal. In those three verbs I find the meaning of my time. To CREATE has much in common with to DREAM. Both are acts of creation, revealing something hidden: an unexpected combination of objects, sounds, images and physical perceptions. Both vanish in a blink of an eye. Raymond Queneau said: rêver et révéler, c'est à peu près le même mot. (To dream and to reveal are about the same word). That's probably why I find myself as a theatre artist and a journalist.
I create dreams that reveal something. I hope that they inspire dreams in others"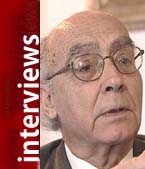 Jose Saramago, Nobel Prize.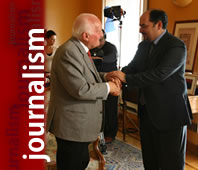 Italian President O.L. Scalfaro
Book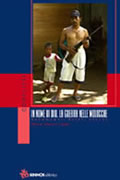 In Nome di Dio:
la guerra nelle Molucche
SINNOS EDITRICE, 2001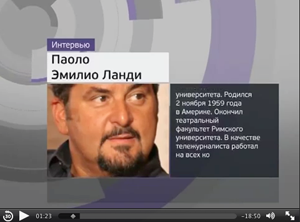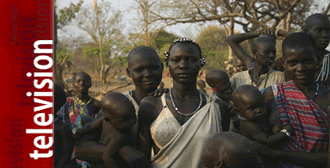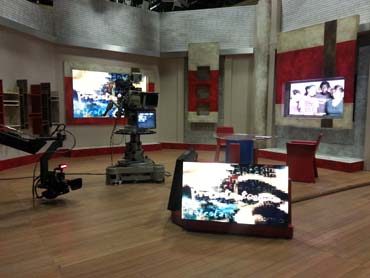 La Crisi Finanziaria americana spiegata in 3 minuti
Estratto della Trasmissione Protestantesimo: OCCUPY WALL STREET - in onda il 15 aprile 2012. Potete vedere l'intera trasmissione seguendo questo link:
http://www.rai.tv/dl/RaiTV/programmi/media/ContentItem-2657bb1a-41ad-476f-b692-9f4b448e1a3d.html
tutti i programmi sono visibili su
www.protestantesimo.rai.it
Television programs (full videos)

broadcast by RAIDUE

Le dieci Parole: NON COMMETTERE ADULTERIO
on air:13/04/2014
Gianrico Carofiglio: La manipolazione delle Parole
on air: 24/07/2011
In Viaggio Con Lutero
on air: 21/08/2011
Chiesa 2.0. # secolarizzazione
on air: 12/05/2014
Passione Secondo Giovanni di JOAN SEBASTIAN BACH
on air: 06/03/2011
1861 - Evangelici e Risorgimento 1
on air: 27/03/2011
Viaggio in Europa
on air: 16/03/2014
L'Evangelo secondo Bach
on air: 26/12/2010
Lutero 500 anni fa a Roma
on air: 01/11/2010
ActionAid
on air: 19/19/2010
Una donna alla guida di una chiesa
on air: 08/22/2010
Fede e Politica: Incontro con Paolo Ferrero
on air: 08/08/2010
Fede e politica: un incontro con il Senatore Lucio Malan
on air: 07/30/2010
Incontro con Nichi Vendola
on air: 07/11/2010
Georg Friedrich Haendel
on air:27/12/2009
Galileo: tra fede e scienza
on air:18/10/2009
Angola: Lavori in corso
on air 6/09/20 09
Difendiamo la Costituzione: un incontro con Oscar Luigi Scalfaro
on air: 12/03/2009

Protestantesimo - C'e' un tempo per

RUANDA il genocidio
"Paolo Emilio Landi has already directed three plays in Riga Russian theatre, all three created by different playwrights. "While each of the three playwrights looks at reality differently from others, in the centre of their comedies is a man. The reason all three plays are classic, is that any person may find himself there, regardless of the thickness of his wallet or type of profession. Or he can look at himself from the sidelines and realize that he often lacks the essentials of life - family, love, and people.""

Morozova N. A Good Role for Rafalson //Telegraf

"Sound, figurative and visual images in production are performed in the aesthetics of old silent films. Clean and bright colors (white, blue, red and black) of decorations and costumes create the atmosphere of a sunlit southern resort."

Morozova N. Italian Love //Telegraf

"The production "A Man and a Gentleman" is a theatre in theatre, where the curtain between the stage and the inner world is almost imperceptible. It is difficult to understand, which of both worlds in this story has lost its mind, but this absurd reality or the real absurdity throughout the course of the play makes viewers almost go mad and laugh."

Ruzanskaya A. On Stage – Man and Gentleman //Chas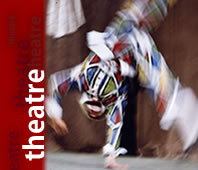 RUSSIA, SARATOV
TUZ - KESILYOV
THE ADVENTURES OF PINOCCHIO by Carlo Collodi, adaptation by Paolo E. Landi. Opened on May 16, 2014. In Russian
RUSSIA, SAMARA
ACCADEMIC DRAMA THEATRE
BULLETS OVER BROADWAY by Woody Allen, adaptation by Paolo E. Landi. Opened on December 20, 2013. In Russian

IN USA, NEWARK, DE.
SERVANT OF TWO MASTERS, by Carlo Goldoni. Adaptattion and translation by Jeffrey Hatcher and Paolo E. Landi. Opened on November 16, 2013. (in English)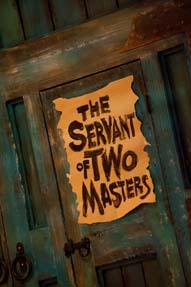 IN LATVIA

FILUMENA MARTURANO (Ta precas italieši) by Eduardo De Filippo opened on February 8, 2013. In Latvian.

Eduardo de Filipo
FILUMENA MARTURANO
(Ta precas italieši)

IN RUSSIA

"VENETIAN TWINS opened a new era in this theatre history" says Valery Zolotuchin, artistic director.

December 24-25 2011.

-----------------------------------------------------------------------------------------

Un Regista Italiano in Russia 8 settembre 2011

-----------------------------------------------------------

Man and Gentleman

(Uomo e Galantuomo)
by Eduardo De Filippo
Riga - Latvia

First Night Ocrober 22, 2011

(Napoli Milionaria)
by Eduardo De Filippo
Ufa - Russia 2011

VIDEO on YOUTUBE

by Carlo Gozzi

Saratov Youth Theatre 2010

trailer

by Moliere

RUSSIAN DRAMA THEATRE

UFA 2009

by E. Scarpetta

State Chelyabinsk Drama Theatre 2009


by Ionesco

Saratov Youth Theatre 2008 VIDEO

IN USA

by Ionesco

University of Richmond, VA. 2006 VIDEO

by Carlo Goldoni

University of Richmond, VA. 2006

by Carlo Goldoni

MILWAUKEE REPERTORY THEATER1999

IN LITHUANIA

by E. Scarpetta

Jaunimo Teatras, Vilnius 2009




by Michael Frayn

Jaunimo Teatras, Vilnius 2006




by Paolo E. Landi

Jaunimo Teatras, Vilnius 2004




IN LATVIA

by E. Scarpetta

Riga Russian National Drama Theatre 2008




by Luigi Pirandello

Riga Russian National Drama Theatre 1993




by E. De Filippo

Riga Russian National Drama Theatre 2011