How did we come together


(from left to right: Carolynne Warren, actress; Santi Migneco, costume designer; Lee E. Ernst, actor; Deborah Staples, actress; Brian Vaughn, actor; Scott Bradley, set designer; Paolo E. Landi, Director.)

The project was initiated during the winter of 1997, thanks to Joseph Hanreddy, the Artistic director of the Milwaukee Rep, who wished to overcome the difficulties presented in the past when staging commedia plays in US. Uniting American and Italian artists this production succeeds in combining the tradition of Commedia with live American entertainment.
The cast
Pantalone Dei Bisognosi,
a venetian Merchant

Peter Silbert

Clarice, his daughter

Deborah Staples

Dr. Lombardi

Jim Baker

Silvio, his son

Brian Vaughn

Beatrice Rasponi, a lady of Turin,
disguised as her brother Federigo

Tamara Scott

Florindo Aretusi, of Turin,
Lover of Beatrice

Joe Lutton

Brighella, an innkeeper

Torrey Hanson

Smeraldina, Pantalone's house maid

Carolynne Warren

Truffaldino, servant first to Beatrice,
and afterward to Florindo

Lee E. Ernst

Patron/Porter

Robb Hurst

First Waiter

Christopher Spott

Stage Manager

Jeremy Woods

Ensemble

Melissa Cannady,
Damon Dunay,
Sharon Golinski,
Kate McDermott,
Samantha Montgomery,
Thomas Rosenthal,
Aaron Simms
Time: 18th century
Place: Venice
Servant of two Masters
by
Carlo Goldoni
Directed by
Paolo Emilio Landi
Set
Scott Bradley
Costumes
Santi Migneco
Performed at the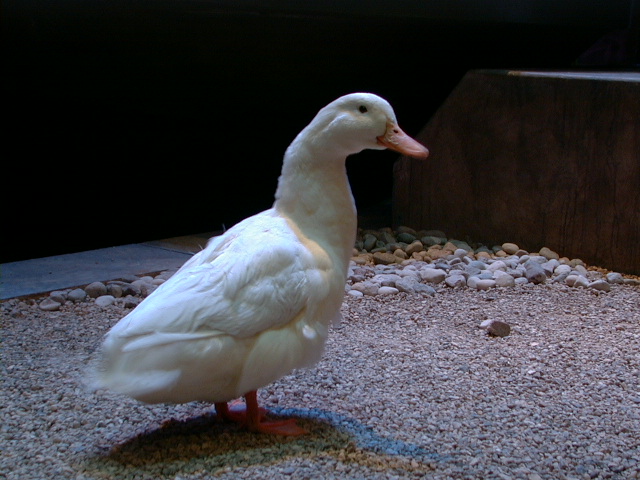 Curiosity
A real duck strolls on the gravel at the beginning of the performance. His name is Mario.