SANTI MIGNECO
costume designer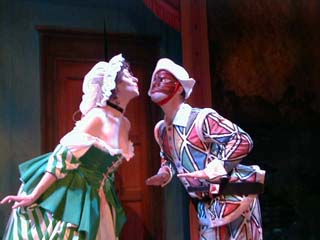 Mr. Migneco recently celebrated his 25th anniversary as costume and set designer for theatre, film and television. A graduate of the Academy of Fine Arts, Catania,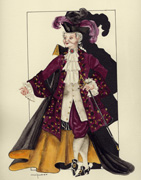 Italy, he has collaborated on more than 100 shows in Italy and abroad (France, Holland, Iceland, Poland, Russia, Mexico and US). He has worked with Paolo E. Landi on Goldoni's THE VENETIAN TWINSand Scarpetta's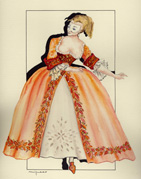 MISERIA E NOBILTA' in Omsk, Siberia. Credit include Goldoni's THE LIAR performed in Reykjavik, Iceland; Moliere's THE IMAGINARY INVALID in Paris; and B. Jasienski's HET BAL VON ETALAGENPOPPPEN in Hague, Holland. Some of the many lyric operas he has designed include Rossini's THE ITALIAN IN ALGIERS and SEMIRAMIS, Donizetti's LOVE ELIXIR, and B. Galuppi's EVERYONE'S LOVER.
Costumes of this edition are carefully based on the originals of the XVIII century elaborated by Italian designer Santi Migneco.
A costume in commedia is the first mark of the character, telling his nature, attitude and wealth. Costumes
are made for the actors, in a sense that much of the effort has been put forth to make them confortable and resistant. Actor Lee Ernst has three identical costumes to be changed during the performance.
Masks are part of some costumes. In Servant, 4 characters wear them. The ones made for the MRT are a combination of the classical masks and those created by A. Sartori, the mask maker who collaborated with Giorgio Strehler in the world famous rendition of Servant. For this production a Cat-like mask has been chosen for Truffaldino, so called because makes him resembling to a Cat and emphasizes his ability to jump and juggle.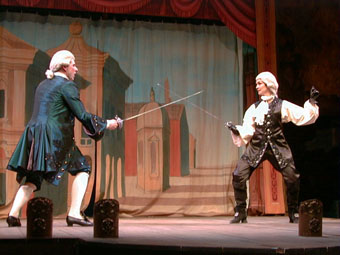 What is a mask?
Its is the link to the ancient Greek theatre and to the medieval performances. It is a way to disguise the face of the actor and to unveil his real self.
Why only some characters have masks?
There is no other reason than tradition, although it can been said that all characters are masks, in the sense that they are all types and do not have a psycology.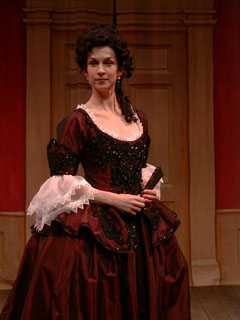 Beatrice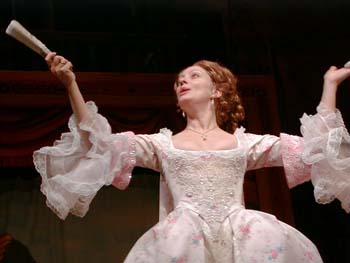 Clarice
Servant of two Masters
by
Carlo Goldoni
Directed by
Paolo Emilio Landi
Set
Scott Bradley
Costumes
Santi Migneco
Performed at the
Curiosity
The quantity of leather used for building the props is equal to 5 cows.