F. Taviani, M. Schino,
Il segreto della Commedia dell'Arte,
Firenze, 1986.
Improvisation has been the single most important unifying element throughout the history and the multitude of manifestations of the Commedia dell'Arte. It is the real thread that runs through this type of theater, even with Italian comedians using radically different techniques, especially after they emigrated. Improvisation as a unifying force in theatre from the mid XVIth century to the late XVIIIth century, demonstrates a great continuity that establishes it as a unique type of theatre, with is own style and genre.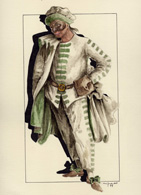 The techniques of improvisation, that Italians master so well, has been developed from one generation to the next and is the key to the Commedia delI'Arte, like a manufacturing secret."
If improvisation was the key to the development of a new form of theatre in the XVIth century, why is it that Italian comedians started playing "all'improvviso" ?
Can the play of the comedians be considered improvised, if it is to some extent studied in advance and makes use of "Centoni" ? These questions bear directly on the fundamentals of the history of theatre. The Commedia detl'Arte was born out of a vulgarisation of erudite theatre, which typically only served as a pretext for showing-off the art of an actor on his inspired days. Commedia dell'Arte comedians managed to elevate vulgarised theatre, up to then considered a low level activity1 and to present it to the ruling class, i. e. the Court. The comedians even got successfully involved in battles against the powerful catholic moralism of those days, the Counter-Reformation.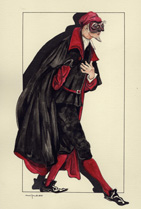 It is thus that the mask, already used at the medieval carnivals, becomes an instrument, a tool, as that used by an artisan. The Commedia dell'Arte converted the actor into an artisan of the theatre, who transformed everyday things into tools of stage craft.
The "Centoni" were like toolboxes, carefully guarded by each comedian, containing gags, scenes and "lazzi" that they could use when the moment came to improvise and that they transmitted from one generation to the next.
If artistic expression arises out of adapting reality, a search for a public and the need to cultivate its tastes, then the Commedia dell'Arte serves this purpose very admirably with its personification of universal types, its parody and direct language. The world of the Commedia dell'Arte can always be reduced to basic situations: conflicts between generations, the struggle for power, sentimental intrigues and differences in social levels. The old rich miser today becomes a narrow minded bourgeois (the modern Pantalone) and Arlequin, lost amongst the pots and pans in a XVIth century kitchen, can today get himself hopelessly entangled in electronic gadgetry. To what extent is there a "Commedia dell'Arte - type" in each of us, and in the people around us?