A window upstage center divides the world in two: left and right. From the window we see the emply sky. Revolving doors allow imaginary guests to come in at the simple command of the characters' fantasy.
Scattered chairs of different size and shape, according to the guests.
A huge mirror lowers, doubling the space, revealing the clock- shape of the set, and including the audience into the number of guests.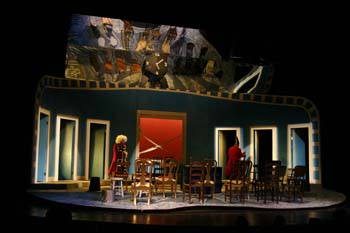 The Chairs
by Eugene Ionesco
Directedby
Paolo Emilio Landi
Set & costumes
Reed West
dance by
Anne Van Gelder
music by
Astor Piazzolla, J. Strauss
Produced by
Department of Theatre & Dance