Text Available in Neapoletanian Dialect
and  in Russian
Poverty and Nobility (Miseria e Nobiltà) is the masterpiece of Eduardo Scarpetta, famous comic actor, who bought a theatre with the earnings of this play. Scarpetta was Eduardo de Filippo's father. This performance is in Russian and has been attended by more than 200.000 spectators.
In a movie version the leading role was played by Totò.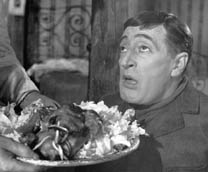 opening night on March 1998
Poverty and Nobility
by Eduardo Scarpetta
Directed by
Paolo Emilio Landi
Set & Costumes
Santi Migneco
Music by
Igor Esipovich
Produced by
curiosity
All author's several children acted as Peppiniello, the young boy. All of them became famous italian actors.