STAGE
La Dolce Vita
Words of wisdom from the director of "The Venetian Twins"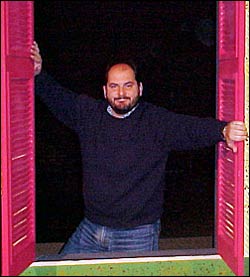 Director Paolo E. Landi


Michele Costantini
Richmond.com
Wednesday April 10, 2002

"People have forgotten how to have fun, to laugh, to feel alive. If my work can change that even for a couple of hours, then I have succeeded in my craft," says stage director Paolo E. Landi, a visiting professor from Rome in the University of Richmond's Theatre and Dance Department.

Professor Landi, who is directing Carlo Goldoni's "The Venetian Twins", has had a disease since the age of 17. It's not deadly, and it's not really contagious, it's the theatre bug. "It chooses you," he explains, though he doesn't seem to mind being its victim.

Landi is a Renaissance man extraordinaire. He stages modern and classic plays, travels world-wide as a TV journalist and director, teaches, translates, has served as director for cultural activities of the Rome City Council, and is a polyglot. He has worked extensively in Russia and has become a Goldoni expert making his American debut in 1999 with a production of The Servant of Two Masters at the Milwaukee Repertory Theatre.

Landi is comfortable and confident in his role as director, requesting that cast and crew call him by his first name: "Everyone calls me Paolo. It's not necessary to use titles to show dedication and respect."

Paolo and his actors have been hard at work for several weeks and tonight I get a preview of Act II, not to mention a sneak peek at the rehearsal process. Goldoni scripted his version of the greek comedy Menecmi as "The Venetian Twins" in Italian. Although UR's production is in English, at one point lovers break out in song to one another in Italian.

Before the rehearsal officially begins at 7:15 p.m. when the stage manager calls "places," I take a seat in the audience halfway back and watch the preparations: actors put on rehearsal costumes and warm up -- stretching, dancing, vocalizing; the stage managers prepare the stage -- placing set pieces and props for the top of the act; and the director instructs the set construction team – demonstrating which way a door should open. The stage manager gets "On Book" ready to follow the script so actors can call for a line. The assistant stage manager takes his place beside the director, ready to take down performance notes, the changes that Paolo wants to remember to convey to the cast.

I can readily appreciate the relaxed atmosphere. Actors do indeed address the director as Paolo, one asking him to clarify motivation, another asking him to clarify movement in a scene. They are comfortable and articulate on stage, projecting their voices without sounding forced. Paolo is meticulous, often stopping to make minor adjustments and pointing out that characters have turning points not only in the grand arc of the play but also within individual scenes. The rehearsal progresses in this way from scene to scene until completion of the act. Then the actors run through it again without stopping, followed by more notes and questions.

After sitting in on the rehearsal, I sit down with the director…

But before we can begin, I follow Paolo from his office to the costume shop where the costume designer he has brought over from Italy, Santi Migneco, checks on the stitchers' progress. Next we go to the stage, where he touches base with the set designer. Those tasks accomplished, the interview begins:

Q: How did you become interested in theatre?
A: I was a student in poetry and philosophy. Theatre was a natural progression and an effective voice for the politics of the late '70s. At first, I did everything from hanging lights to sweeping the stage, and then I got my chance to work assisting professional directors.

Q: What kind of preparation do you do? How do you approach working with the actors?
A:Of course, I do my research. But, basically, I trust my instincts. I have a sixth sense about what works, what's needed. I can't explain it. It's organic; I feel it.

As far as the actors, in the beginning I like to get up on stage with them. It's a very physical play, and it's important to establish a rhythm, to choreograph the movement. They have opportunities to improvise, to make discoveries, to be creative. But this must all happen within an established framework.

Q: Why do you do Goldoni? What's the attraction for a modern audience?
A:Goldoni is well known for reforming the commedia dell'arte, but it's his early works that appeal to me -- "The Servant of Two Masters" and "The Venetian Twins" precisely because they are closer to their origins and so maintain the essence of commedia. That is, "going from the stage to the page" and not the opposite. Improvisation and interaction with the audience, that's living theatre. The work evolves through doing it. It's pure theatre. It's not literature. Or maybe it's a little of both. There is poetry and lyricism in classic theatre. We are working with a text. Dorothy Holland, my colleague here at the University of Richmond, spent a considerable amount of time and effort on this translation. Then, the actors and I add bits that are generated through rehearsal.

Q: What's your interpretation of the play?
A:For Goldoni it is about one thing and for me just the opposite. Goldoni favors the smart twin, Tonino, who represents the middle-class Venetian merchant class soon to be the ruling class. He kills off the simple twin, Zanetto, to demonstrate the establishment of new values. "Out with the old, in with the new."

I, on the other hand, sympathize with Zanetto, who is naïve, tender and funny. He is our inner child, the one who is not understood. He is not just out for profit. He, like the rest of us, is looking for happiness.

Q: How do you like working at the University of Richmond? In the U.S.?
A:Every new experience enriches one's life, and being at the University of Richmond is no exception. I am teaching classes and directing a company of students who benefit from working with a professional director and along side professional actors. Pancrazio, Il Dottore and the twins Tonini/Zanetto are played by guest artists-in residence, Linda Livingstone and Darryl Phillips, and local actor Jim Morgan.

This experience is very different of course to working in a strictly professional arena. It's more demanding; there are more compromises. But the academic community is very supportive, and this helps resolve problems as they arise, before they get out of hand.

Working in the U.S. is an important extension of my education. I studied Anglo-American Literature and did my thesis on Tennessee Williams. Still there is much to learn about American culture. The Americans I have met are not like the stereotypes we see on television. Their mentality is complex and totally different to ours in Europe.

One thing I have observed, the students have so many activities that they have no energy to do anything. They are afraid even to begin. They have no concept of doing absolutely nothing or how this is essential to an artist. It is when the creative juices begin to flow. Ideas need time to surface.

Q: You have expanded your endeavors beyond theatre.
A:Yes. My work in TV journalism has taken me to places like Kosovo, Bucharest, and Rwanda. Those experiences have made a permanent imprint on me. They inform my being, which in turn influences my theater work. It's amazing how when people see a man with a camera, they are willing to open up to him. Stories of desperation unveiled change your perception, help you understand. These stories touch my soul.

Q: What's next for you?

A:My TV special "Puritanism in Contemporary American Culture" will be shot here in Richmond at the end of the month, and then I'm doing an adaptation of "The Full Monty" in Russia. Five more plays in Russia over the next few years and some work at other universities here in the U.S.

Q: What makes it all worthwhile?
A:It's the audience, their laughter, their appreciation, their applause.

Q: And then, Paolo tells me something that's kind of like a secret.
A: There's something I do. On opening night, when the actors have cleared and the applause still sounds in my ears, I go backstage. I stand there, perfectly still for five minutes, being thankful. To whom? For what? To destiny, to God, to my craft, to all those who came before and who have passed on. This is my life and it is not one traded away easily. You see, I am grateful because I know it is difficult to work in the theatre, to keep getting that phone call, "Hey, Paolo what are you doing next season? We want you."

Michele Costantini is an intern at Richmond.com.



---

E-mail Michele Costantini


Contact richmond.com



Related Info




The Venetian Twins
Written by Carlo Goldoni
Directed by Paolo Emilio Landi
April 11 to April 14
Thursday through Saturday 7:30 p.m.
Sunday 4:00 p.m.
$8.
University of Richmond,
Modlin Center for the Arts
Alice Jepson Theatre
(804) 289-8980